The MediaMaster® MM100s "BE" offers major user and connectivity enhancements to deliver a superior user experience in marine applications. Below is a summary of the new and improved features. A software update of earlier (non-BE) MediaMaster® MM100s models can be performed to receive these same enhancements.
Four Configurable Zones: Each with independently customizable features and control options, including:
On-The-Fly Level Control: Now you can perform volume adjustments of all zones together or individually, from the same screen.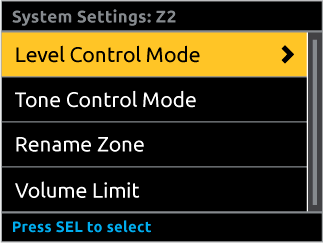 Level Control Modes: You select how you want each zone to respond to volume commands
Relative: Links the volume levels of Zones 2, 3 and/or 4 with the level of Zone 1. Linked zones will proportionally track (follow) Zone 1's volume. The relative levels for each zone are independently adjustable, on-the-fly.
Absolute: Creates a fully independent level control for a selected zone, with its own separate volume level slider.
Fixed: Sets the output level of selected zones at a specific, fixed output level (4V, 2V or 1V RMS) that is not affected by the Volume control.
Off: Disables the output of a selected zone.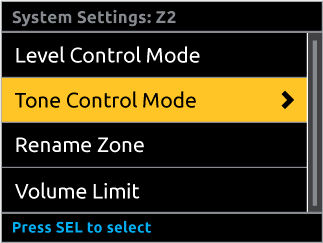 Tone Control Mode: Permits individual customization of each zone's treble, midrange, bass and balance settings. Each zone can be configured as:
Same as Main Zone: Links the tone controls of Zones 2, 3 and/or 4 with Zone 1.
Independent Tone Control: Maintains separate tone controls for a selected zone.
Volume Limit: Allows you to set a custom, maximum allowable volume level for each zone.
Rename Zone: You can choose from a list of preset location names, or create a custom name for each zone.
Name this Device: Allows your MediaMaster® to display a unique name on paired Bluetooth® devices and connected MFDs, making it easier to recognize your Mediamaster® in your device's Bluetooth Device List.
Certified NMEA 2000® Connectivity – The MM100s-BE is also equipped with a NMEA 2000® connector (Micro-C) to interface directly with existing vessel networks. Audio system control functionality is available with compatible Lowrance®, Simrad® and Garmin® multi-function displays (MFD). Refer to MFD manufacturer for device compatibility information. A software update of earlier (non-BE) MediaMaster® MM100s models can be performed to enable NMEA 2000® compatibility and requires an adaptor cable to convert to a NMEA 2000® connector. Adaptor cables (MMC-DN2K-1 or MMC-DN2K-6) are sold separately.
Two remote controller options are currently available
for the MM100s-BE:
MMR-20-BE Wired Remote Controller: Connect up to three remotes for control functionality from distant vessel locations, up to 75 ft. (23 m) away.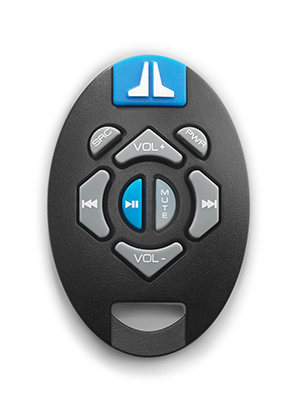 MMR-10W Wireless Remote Controller: Waterproof, 2.4 GHz, key-fob style remote delivers handheld control from up to 150 ft. (46 m) away, on or in the water.