The subwoofer on your vessel must be capable of withstanding the environmental abuse of a marine climate. This includes moisture, rapid temperature changes and constant exposure to UV rays (see: "Part 1: Speakers" for more information on the environmental obstacles marine audio products must overcome). Due to the subwoofer's larger size, increased power handling, and excursion capabilities, added strain on its parts significantly increases the subwoofer's chances of mechanical failure. When you consider the damage that a marine climate can cause, you can see why purchasing a marine subwoofer specifically designed to endure the elements is absolutely essential.
Just as we do with our full range marine speakers, the M6-Series and M3-Series subwoofers go through stringent environmental testing to ensure all materials (cone, surround, basket etc.), adhesive bonds and key junction areas, such as the cone/voice coil and former/spider assembly, all meet the demands of the marine climate.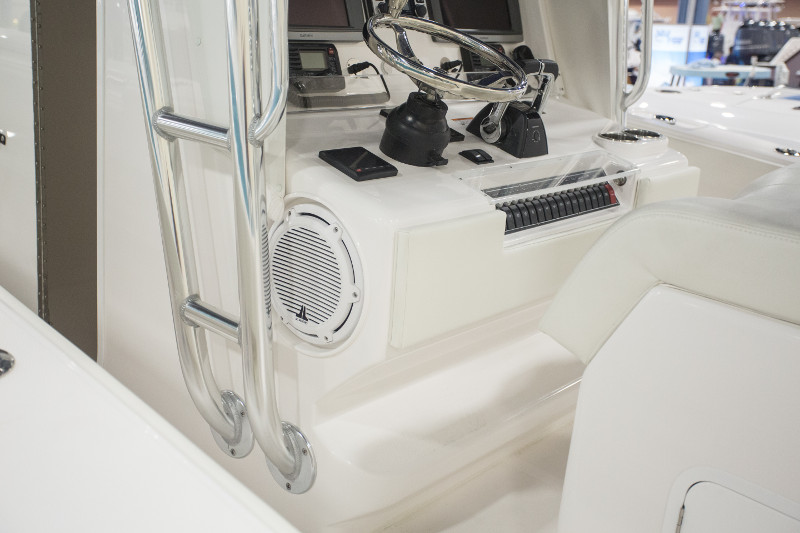 The flexibility of Marine Infinite Baffle subs allow them to mounted almost anywhere.
Due to space limitations, it's common to choose an infinite baffle subwoofer over a subwoofer enclosure on a vessel. Infinite Baffle subwoofers mount into your vessel's sidewall and don't require an enclosure. This kind of flexibility allows you to install the appropriate subwoofer for your specific application without sacrificing the sonic performance of the driver. (See article: Choosing the Correct Subwoofer for Your Vessel).
Whether it's on a boat or in a car, subwoofers are a vital part of every sound system due to their unique ability to reproduce the low frequencies (bass) that a conventional component or coaxial speaker cannot. Subsequently, by adding a subwoofer to your system, you will also improve the sound of the existing speakers because they are no longer taxed by attempting to play lower frequencies. A marine grade JL Audio subwoofer will give your vessel optimum sound while also providing superior durability and flexibility.